How to do employee volunteering right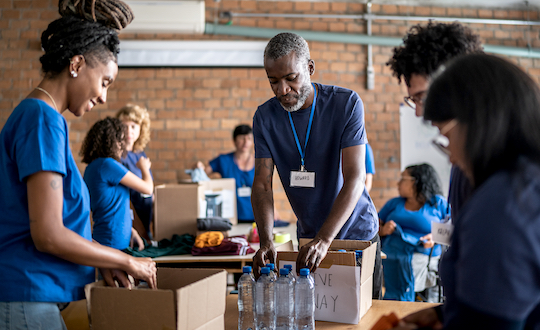 Business purpose is so important for the workforce that 92% of employees working for purpose-led companies would recommend their employers1. These employees feel that their work is contributing to the community, that what they do is meaningful for society. Indeed, feeling one's work has meaning is the third top factor keeping people in their current jobs, just after compensation and career progression2.
Keen to retain top talent and attract the right candidates, employers are embedding purpose in their business strategy and leveraging CSR and ESG programmes to help create that sense of contributing to the community – often through volunteering. But how do you ensure volunteering is truly helping the company achieve its goals, whether they be creating positive social impact or increasing employee satisfaction?
Here are key aspects to consider as you develop your volunteering strategy:
Why?
There are many business reasons to encourage employee volunteering: it increases employee engagement, enables skills development, helps attract and retain talent, enhances business reputation, and has the potential to truly support community development, leading to a wealthier and fairer society with a growing economy. What are the main motivators for your company to do it? There are probably a number of motivations behind a business's drive to encourage volunteering; clarifying them provides the foundation for an effective programme. It also enables you to set KPIs, which are strategic for evaluating the success of a programme.
Who can join?
Based on the why, who among the staff will have the opportunity to volunteer? Depending on the pre-defined objective, opportunities could be open to all or to specific parts of the business, such as a particular location or hierarchical level. 'Whoever gets to join in, it's important to clearly communicate the objective of the programme and to ensure support from the senior leadership', says Chris Corcoran, EVERFI UK's Head of Training, who has prepared hundreds of corporate employees to engage in community-based volunteering. 'Employees need to understand what's in it for them, beyond helping the company meet its objectives: is it about developing skills? Networking with colleagues? Are there incentives?'
Which cause?
Differently from other social impact programmes, corporate-supported volunteering doesn't necessarily need to be aligned with the business. Companies can encourage employees to contribute to their own favourite causes, on their free time or during work hours, through incentives such as days off work for volunteering or additional time off for volunteering outside work hours.
However, there's a great opportunity to engage employees in company-wide or team-wide initiatives, and in these cases it makes sense to align the cause or the activity with the overall business strategy. Is there a particular cause or a particular segment of the community that is especially important for the business? What do they need help with? What would make a real difference? Assess the skills and motivations of your staff and think about what would motivate them and support their development, along with delivering as much value as possible to local communities.
How?
The logistical aspects of the programme are the next step to be defined, following on from the previous steps. Will volunteering take place in the office, in the community, or virtually? Who will coordinate the programme within the business? Do you need any external partners to help with coordination, training, developing resources, or reaching beneficiaries? What time commitment is expected from volunteers, and what support is available?
Especially important is determining the length of the programme and its schedule. Long-term, ongoing programmes tend to create the best results for the community and for the business, as the initiative improves with time and there is better use of company resources.
Ensuring programme quality is also a big consideration for those who want to ensure volunteering is not just a tick-box exercise. How will you monitor and maintain the quality of the programme? Will there be ongoing audit visits, reports, surveys?
Is it working?
As mentioned before, volunteering can be very effective in creating positive social impact and in engaging employees in a company's purpose. But to ensure the programme is delivering on its objectives, it's key to establish a regular cycle of measuring and evaluating results.
How many hours of volunteering are your employees completing? Who are they impacting, and what difference is the programme making to beneficiaries' lives? What impact is volunteering having on your employees – on their skills, understanding of their local communities, on their pride in working for your business?
Once you know the impact that volunteering is having on all stakeholders, sharing the story of that impact with your beneficiaries and your employees is an important way to encourage further participation and to bring everyone together to celebrate a common cause.
For examples of social impact programmes that engaged employees in meaningful volunteering, check out this blog with case studies from Electronic Arts, J.P. Morgan, and the Premier League Charitable Fund.
Looking to engage and support employees?
We now offer a complete CSR solution to enable employee volunteering, employee giving, grantmaking, and wellbeing educational support.
Stay Informed
Best practices, the latest research, and insights from our expert network of partners, delivered right to your inbox.
Success!Thank you for signing up. We'll be in touch with more relevant content.