Overview
With climate change appearing constantly in the news and affecting the lives of people around the world, young people are keen to learn more about the environment and the role that they can play in protecting and preserving it.
Encourage the children in your community to build a sustainability mindset by helping them explore the importance of recycling, how products can be reused, and the impact of sustainable recycling vs. 'wishcycling'.
Through Ready to Recycle, students learn about the tradeoffs of mining, refining, and recycling, and simulate making real-world decisions about promoting change as consumers, at every stage of a product's life cycle. The course is delivered through classroom activities and engaging digital lessons that include narrative-based, interactive animated content and quizzes that act as 'knowledge checks' to reinforce learning.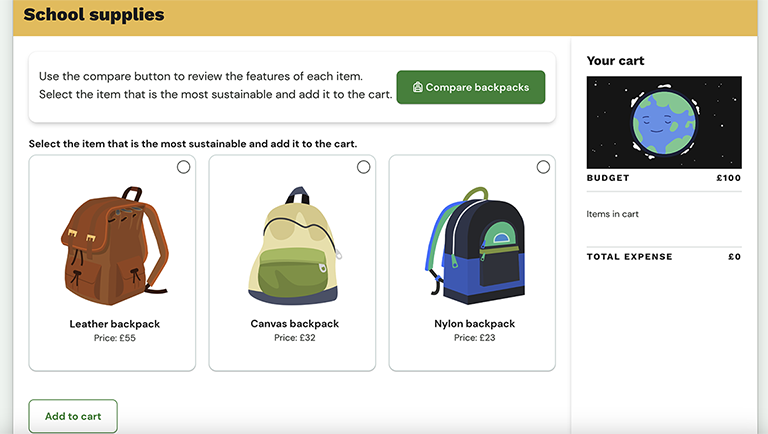 Ready to Recycle arms pupils with the knowledge they need to make sustainable choices and preserve the planet's resources for future generations. They will learn why it is so important to research what can be placed in a recycle bin (and how this differs from town to town), the incredible impact that extending the lifecycle of recyclable items can have by removing the need to mine and refine new materials, and how to weigh up making sustainable choices within a budget.
By framing this learning with real-world situations, the course enables pupils to practise decision-making in the classroom and equips them with the skills to apply what they've learned and explain their choices to parents or peers.
Why sponsor Ready to Recycle?
Fully white-labelled digital platform to teach a sustainability mindset in the classroom
Ability to build the reach of your programme in UK schools
Robust reports on student reach and knowledge gain data to show your impact
Opportunity to add additional bespoke elements, such as facilitated employee volunteering opportunities
Sponsor This Course
Fill out the form today to find out more about sponsoring Ready to Recycle for students in your community.
When you sponsor Ready to Recycle you will be supported by our bespoke creative services, including marketing, PR, events, content development, competitions, research and evaluation.