Measuring your CSR impact and social ROI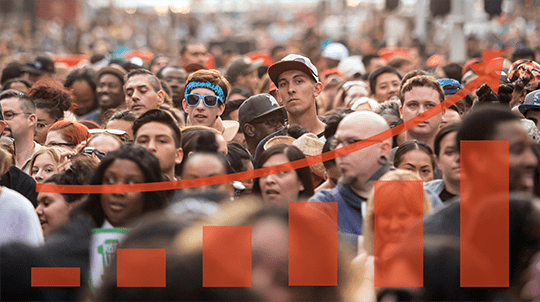 Getting leadership buy-in for Corporate Social Responsibility (CSR) or Environmental, Social, and Governance (ESG) programmes is often a challenge. In fact, 47% of UK CEOs say they're struggling to articulate a compelling ESG narrative to their stakeholders. The concern is not only seeing return on investment (ROI) in financial terms, but also ensuring that programmes deliver meaningful positive changes to the target audiences and communities. How do you measure impact beyond educated guesswork?
Calculating the social return on investment for CSR or ESG programs follows a similar process to measuring the effectiveness of other initiatives. At a top level, it is a three-part process:
Identifying metrics and setting goals
Calculating value
Tracking results
In this blog, we'll enter into a bit more detail on the first two steps of this process.
Identifying metrics and setting goals
How will you measure impact? Here we're looking for key performance indicators that go beyond the number of people reached. We suggest looking for evidence-based studies that show the impact of the metrics you end up choosing. Here are six metrics you should consider for your initiatives:
CSR Metric #1: Employee Satisfaction Index
With 90% employee motivation and loyalty in companies that are purpose-driven and 70% of the workforce screening employers for purpose, it is clear that corporate environmental and social responsibility is crucial for employee engagement.
CSR Metric #2: Customer Retention Rate
Customer loyalty directly affects profitability, and customers want to work with organisations that align with their values. CSR and ESG programmes show your customers what your values are.
CSR Metric #3: Social Media Engagement
Social media engagement is a good measure of a company's visibility and reputation. With 59% of consumers willing to spend more money on businesses with good values, social media is a great way to amplify your message and get people involved.
Why CSR matters
The reasons purpose-driven companies are more successful
CSR Metrics #4: Employee Turnover Rate
Similarly to metric #1, corporate social and environmental responsibility programmes affect talent acquisition and retention. People want to work for companies that share their values and to do work that helps improve the world.
CSR Metric #5: Revenue Growth Rate
With customers and investors increasingly screening companies for their social and environmental impact, CSR and ESG programmes directly affect business growth. Purpose-driven companies grow more than their solely profit-driven counterparts.
CSR Metric #6: Social Return On Investment
We suggest coming up with a formula to measure the financial impact of your initiatives. One possibility is to use the Impact Multiple of Money (IMM) metric, a methodology that estimates the monetary value of social and environmental initiatives. We'll talk a bit more about this further on in this article.
Once you've chosen your metrics, it's time to set achievable and relevant goals for the short- and long-term.
Calculating value
Using a metric like the Impact Multiple of Money (IMM) allows organisations to translate into financial language the impact of outcomes such as better health, improved financial literacy, and lower environmental risks. It is not a precise calculation, but it can provide an estimate of the magnitude of an organisation's social or environmental impact.
Here are a few of the steps involved in calculating IMM:
Using economic research, attribute a monetary value to the social or environmental impact you're trying to achieve.
Estimate the probability that the impact you created will last for 5 years after your initiative ends. This enables you to forecast your impact into the future and assess your initiative's impact in a more comprehensive way.
Starting with the total estimated value created by your initiative, calculate the return on investment proportionally to each monetary unit invested – i.e., for each pound invested, how many pounds will the initiative generate in return? You will then have your IMM. An IMM of 8X, for example, means that for every £1 invested, you will see £8 of social or environmental return.
How will you measure social ROI?
Now that you know which metrics to use and how you can calculate the financial impact of your corporate social and environmental initiatives, we hope investing in your community becomes easier. If you need help researching your community's needs, measuring and reporting the impact of your programmes, you can always reach out to EVERFI and get our experts' support.
What's the impact of your CSR?
Get in touch to discuss your initiatives, goals, and any challenges you'd like support with.
Stay Informed
Best practices, the latest research, and insights from our expert network of partners, delivered right to your inbox.
Success!Thank you for signing up. We'll be in touch with more relevant content.