EVERFI's Guide to Meaningful Social Impact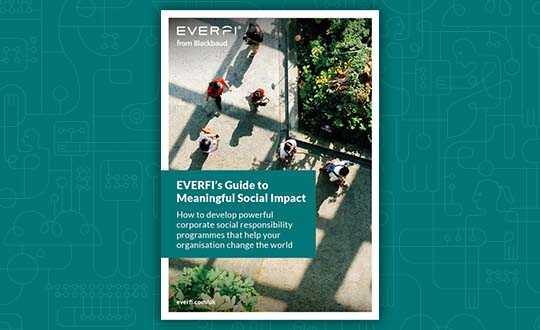 How to develop powerful corporate social responsibility programmes that help your organisation change the world
Research shows that consumers, investors, and employees want businesses to benefit all stakeholders, and that organisations not embedding a genuine mission into their strategies could be left behind.
The EVERFI team has compiled research data and insight from businesses and from our own practice to identify the challenges and best practices of social impact initiatives, also known as corporate social responsibility (CSR) or environmental, social and governance (ESG) programmes.
This guide will help organisations think strategically about their social impact initiatives so they deliver meaningful change for the community while also making sense for the business. It addresses pitfalls and challenges to leveraging the power of businesses to do social good, proposing solutions and sharing examples.
Download this guide to learn:
Why social impact matters for businesses
How to get internal buy-in
How to incorporate CSR/ESG in business strategy
What the best practices are
How to measure effectiveness and impact
To download the report, please complete the form on the right.