Three inspiring business social impact initiatives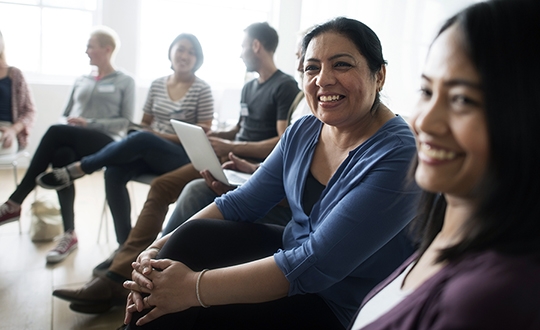 We have recently published several content pieces about corporate social responsibility (CSR) and environmental, social and governance (ESG) strategy, exploring why it's important, how to measure impact, best practices, and ways to achieve meaningful and scalable social impact through educational initiatives. If you've missed them, you can access them here:
For companies not yet doing these kinds of initiatives, education-based CSR or ESG can seem like an abstract concept, or the results might be difficult to grasp. To illustrate the power of such programmes, we thought you'd be interested in examples of the work some of our clients have been doing:
Institute of Grocery Distribution
IGD developed an employability programme to help thousands of young people acquire work-ready skills and get acquainted with careers in the food and consumer goods sector. As part of the programme, we have delivered workshops on their behalf across different cities and online, featuring volunteers from the industry. This strategy aligns with the needs of the consumers they serve and with the industry's own needs, as attracting young talent and motivating employees to engage with the community are vital to a productive and sustainable workforce.
Why it's great: Perfect match between community and organisational needs; a win-win for everyone.
AIA
The leading life insurer in Asia, AIA has identified their social purpose as helping people to live healthier, longer, and better lives. To meet that goal, they promote healthy eating, active lifestyles, mental wellbeing, and health and sustainability among school children in Australia, Hong Kong, Thailand, and Vietnam. Their educational programme includes a Healthiest Schools Challenge, where schools can showcase their health initiatives for a chance to win prizes and experiences.
Why it's great: It's a tangible demonstration of AIA's belief that helping to create a healthier Asia is one of the most valuable things the organisation can do for its communities.
Boots
It makes sense for a health brand to engage in health-related social initiatives. In alignment with their range of suncare products, Boots engaged EVERFI to create a web-based educational initiative to raise awareness of sun safe habits. The Boots Soltan Sun Ready website, driven by conversations with parents and teachers, contains information and resources for activities to do with children, to teach them healthy suncare habits.
Why it's great: The fun and engaging lesson resources and at-home activities teach children healthy habits that will last a lifetime.
Ready to create social impact?
Get in touch to discuss your CSR or ESG goals and how we can help you achieve them.
Stay Informed
Best practices, the latest research, and insights from our expert network of partners, delivered right to your inbox.
Success!Thank you for signing up. We'll be in touch with more relevant content.